A mix of working for the drama department, Thanksgiving responsibilities, and a myriad of testing dates has set me a little bit behind. Here's a quick update on what's gone on so far in the club as I resume weekly updates. -sgm
Recent Science in the News and Math of the Week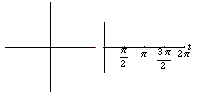 parametric equations for the set x=rcost and y=rsint
Special Relativity
One of the major November topics was Special Relativity! I've included a video to help assist with understanding this fascinating concept that Nick and Dr. Fraser explained to the club on the Thursday before Thanksgiving week.
(I'm no expert. See an error? Let me know and I'll get on finding a better resource.)
In miscellaneous news, Dryw recently got his magnificent 'fro chopped off for his traditional donation to Locks of Love. He is now completely unrecognizable, but the WHS Science Club loves him anyways and will congratulate him on his generosity once he is located and identified with complete accuracy.
A suspect photo of our changed ally in science: